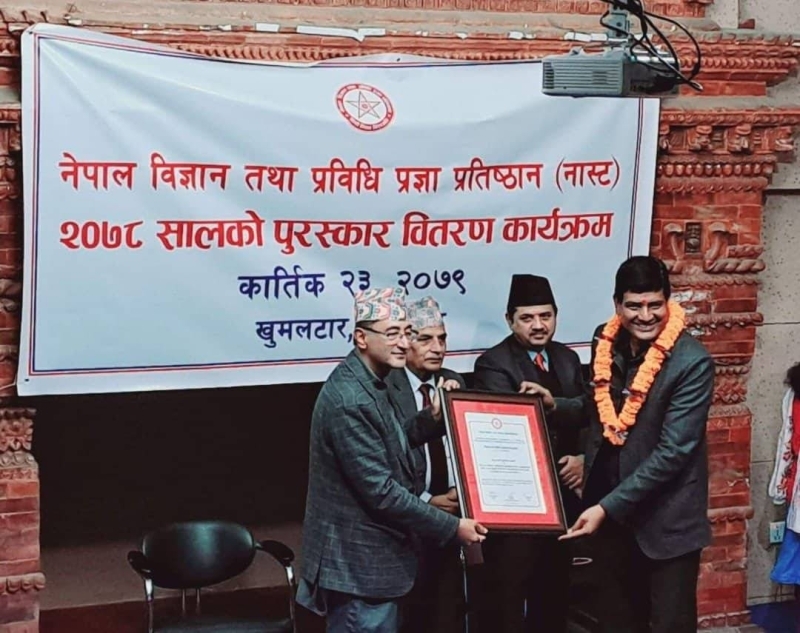 NFSJ Founding President Karki bestowed with science and technology award
Science Journalist and Editor Chhatra Karki has been honored with 'Science and Technology Journalism Award-2021' initiated by Nepal Academy of Science and Technology (NAST) which bears an amount of Rs. 50,000.
Vice-Chancellor of NAST, Dr. Sunil Babu Shrestha, bestowed the award to Karki in a programme organized at the auditorium hall of NAST, in Khumaltar, Lalitpur on Wednesday.
"This award has been conferred to Karki for informing the general people regarding scientific, enlightening and factual information of science and technology through multimedia,' said the press release of NAST. Karki is the founding President and Program Head of Nepal Forum of Science Journalists (NFSJ).
He has over two decades of experience in newspaper, multimedia and online news portal. He covers science, Climate change, Environmental health and current affairs for national and international media outlets.
He has worked as Bureau Chief for Nagarik daily Newspaper and served as Editor for Nepal News, Nepal's first online News portal, Kendra bindu online media, and Drishya TV. Currently, he is working as Nepal Writer for gavi, the vaccine Alliance. Karki has served as Program Director of Himalayan Climate Boot Camp 2022 funded by Spark Grant Initiative of World Federation of Science Journalists (WFSJ).
In the program, Over the dozens scientists, researchers, teachers and academicians also were awarded. On the eve of international Science day, NAST has awarded those who have made contributions in various field of Science.
Vice-Chancellor of NAST, Dr. Sunil Babu Shrestha, put forwarded his felicitation to the awardees and urged them to keep on engaging in scientific researches and activities for prosperity of the country. Meanwhile, Vice- Chancellor Shrestha released the glossary of Crop Science published by NAST.